Defying Deviance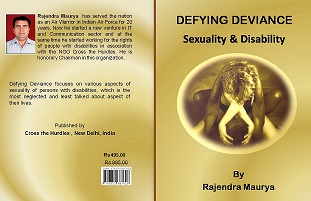 Defying Deviance, a book on Sexuality & Disability, by Rajendra Maurya, Chairman Cross the Hurdles, addresses a wide range of misconceptions and facts regarding sexuality and disability. The book debunks the myths and clarifies the doubts regarding disability and sexuality present in our society. 10 real life stories of couples with different disabilities and sexual orientation are also included in one of the sections of this book...These wonderful stories make us believe that love and understanding can really make things happen....!!
The book is available in print version as well in e-book form (screen reader accessible).
To grab your copy and to know about payment options write to crossthehurdles@gmail.com or abha.khetarpal@gmail.com
Price in India
Print Version: Discounted Price Rs 495.00 including postage and handling charges (MRP Rs 995.00)
E-book: Discounted Price Rs 199.00 including handling charges (MRP Rs 500.00).
Price outside India
Print Version Discounted Price $49.00 including postage and handling charges (MRP $79.00)
E-book Discounted price $19.00 including handling charges (MRP $39.00)
Payment Options
Payment can be done through bank transfer or Check.
For Bank Transfer Our Bank Details:
A/c No: 02921450000057
Bank name: HDFC Bank
Branch code: 000292
Branch IFSC code: HDFC00002
SWIFT Code: HDFCINBB
MICR Code: 110240041
Check can be drawn in the favour of Cross the Hurdles.
After making payment you can write to us at the email id given above and we will dispatch the book.