Educational Facilities
Copyright © 2010 Cross the Hurdles. All rights reserved.
New Writing Rules For the Students With Disabilities
New writing policy has been announced by Delhi University on 9 November 2011 for students with disability. This would ensure leading to hassle free examination for them. The University authorities will now hire scribes, interpreters, or any other form of assistance to the students with disabilities.
The notification came in DU's website explaining provisions for students with different types of disabilities like '100 per cent visual disability' and 'low vision'; orthopaedic, hearing and speech impairments; and cerebral palsy and other brain-related ailments. Students with short term disabilities due to injuries are also included in the new writing guidelines.
Earlier students with disabilities had to run from pillar to post in order to get the benefits due to them like extra time. They had to fulfill all the formalities and get examination assistance.
New Policy
The new policy will approve disability certificate from a government hospital and will provide facility to the disabled that includes scribes, interpreters, extra-time and permission to use laptops or computers with disabled-friendly software. The payment to be given the scribe which was fixed at Rs 250 per day will now be borne by the university. Extra time, over and above the prescribed for a paper will be 1/3rd of the duration of examination. Detailed guidelines on qualifications of the scribes have also been laid down.
Now it is mandatory for the colleges to create a bank of scribes with help from University's Equal Opportunity Cell with an objective to assist the students with visual impairment.
Scholarships by IGNOU
The Indira Gandhi National Open University (IGNOU) offers scholarships for disabled students for higher education.
9 scholarships would be awarded to the disabled students pursuing technical/ professional courses at the graduate and post graduate level with the aid of Ministry of Social Justice and Empowerment. National Handicapped Finance and Development Corporation (NHFDC) announced 1500 scholarships in favor of persons with disabilities. Under this scheme, a student with visual or hearing disability is also provided one time facility of aids and appliances. This scholarship scheme is being implemented from the current academic year i.e. 2011-2012 and includes total fee reimbursement, books, stationery allowance and maintenance allowance. This scholarship scheme is also applicable to distance education universities like IGNOU. It is also available to those students who are pursuing Ph.D. or M.Phil. degrees.
There are two scholarship schemes viz, trust fund and national fund. Under the Trust fund, scholarships will be awarded on quarterly basis. Maintenance allowance will be paid to the students for 10months at Rs. 2500 per month for professional graduate courses and Rs. 3000 per month for professional post graduate courses in one academic year.
Books/ stationery allowance will be paid to students pursuing professional graduate courses at Rs. 6000 per annum and Rs.10,000 per annum pursuing professional post graduate courses.

Under the National Fund scheme, scholarship of Rs.1000 per month for hostellers and Rs. 700 per month for day scholars studying in professional courses at graduation and above level, and Rs.700 per month for hostellers and Rs.400 per month for day scholars pursuing Diploma/ certificate level professional courses has been announced.
Foundation Course on Education of Children with Disabilities
The admission into the Foundation Course on Education of Children with Disabilities (FCED), for session starting from February 2011, is open. It is a special certified training programme on inclusive education for school teachers. In-service teachers from any school are eligible to apply.
The fees for the course is Rs 1500 for three months. But the course can be completed in nine months. The teachers would be provided with the study material along with multi-media support. The facility of provisional registration from RCI to work as a special educator would also be provided to those who enrol into the programme.
This course is developed jointly by the National Centre for Disability Studies (NCDS), IGNOU, and the Rehabilitation Council of India (RCI). This course is certified by IGNOU and recognized by RCI. It is a distance education programme available in both Hindi and English medium at present, but will be available in Bangla, Malayalam, Tamil, Oriya and other languages in times to come.
Besides, practical training is also imparted to students at RCI recognized study centres under the guidance of qualified resource teachers. State sponsorship will also be given Sarva Shiksha Abhiyan (SSA) teachers.
Teachers should enroll in this programme in order to understand the educational needs of the physically challenged students. The programme will train the teachers in appropriate classroom management of children with disabilities. It will help to build competencies to include children with disabilities in school activities and to undertake dual teaching for children with mental retardation and learning disabilities.
Programmes offered by National Center for Disability Studies
Programmes on offer at present:
Foundation Course (B.Ed(Special Education))
Launching of Foundation Course on Education with Children with Disabilities
Foundation Course on Education of Children with Disabilities
1. PG Diploma in Disability Management for Medical Practitioner (PGDMD)
This programme is specifically meant for those medical professionals who posses MBBS and similar qualification in Ayurvedic, Unani, Siddha and Homeopathy. Since the doctor is the first professional to come across with the disabled people so it was thought by Rehabilitation Council of India (RCI) to train all the medical professionals so that they could provide better counseling and guidance for the rehabilitation of person with disabilities. This is the only programme which consist the information and therapeutic process for all seven disability areas as recognized under PD Act, 1995.
2. BEd (Special Education)
IGNOU, NCDS in collaboration with Rehabilitation Council of India (RCI) is going to launch B.Ed (Special Education) programme from July 2009 session. The programme is of two years duration and being offered in 3 areas of disabilities viz. Mental Retardation, Hearing Impairment and Visual Impairment. This programme will prepare special teacher for teaching up to secondary level. Approximately 1500 special teachers will be produced every year through this programme.
3. Foundation Course for In-service Teacher for Teaching Children with Disability
The goal of Universalization of Elementary Education (UEE) and Education for All (EFA) can only be realized if all children including children with disabilities are included under the umbrella of elementary education. The inclusive education concept also emphasized for making the school inclusive so that all children could get the same education.
Considering this a foundation course is being launched in collaboration with Rehabilitation Council of India for In-service teachers. The course will be offered through online and also through print mode.
Programmes offered from January, 2010 session:
1.Elective Course in Disability Studies
2. Disability study is now very accepted as an academic discipline. The disability should not be viewed as a medical or clinical problem rather it is more a developmental and human right issues. It is field of knowledge and enquiry which reformulate the study of disability by perceiving it as a social phenomenon.
The fist time in the country IGNOU, NCDS has taken initiative to develop an academic programme starting from the 8 credit elective course under Bachelor Degree Programme to PG Diploma and Master Degree on modular basis.
MEd in Special Education
3. Certificate in Early Childhood Special enabling including (Mental Retardation, Visual Impairment and Hearing Impairment)
Master of Science in Counseling and Family Therapy
B. Apart from the above NCDS is conducting the following activities:
Scholarship to IGNOU PhD scholars having disabilities.
Short term training programme for capacity building of various levels of functionaries working in the disability area.
Development of audio-video programme in various aspects of disability.
Development of Resource Centre is in process.
C. Other Activities
An Awareness Module has been developed for IGNOU students for making a friendly society for persons with disabilities.
Prepare directory of institutions and experts working in the field of disability.
You can contact:
The Director,
National Centre for Disability Studies,
Indira Gandhi National Open University,
Zakir Hussain Block (Ground Floor),
Maidan Garhi,
New Delhi - 110068
India
+91-29531574,29531575,29532124
+91-29535125
n.c.d.s.2008@gmail.com
Source: http://www.ignou.ac.in/ignou/aboutignou/icc/ncds/activities
National Center for Disability Studies (NCDS)
The Indira Gandhi National Open University (IGNOU) set up the National Center for Disability Studies during the 10th plan period, that is operational since November 2006.
The Center acts as a Nodal Agency for ODL institutions/organizations in the country. The Center is mandated to design, develop and implement educational, vocational and awareness programmes in disability for the service providers that are working for the rehabilitation of children with disabilities.
Vision
To develop human resources in various fields and areas of disability for creating a sustainable, friendly society for disabled population.
Mission
The mission of the Center is to provide quality education at the doorsteps of the learners, including disabled people. The specific mission of the Center is to strengthen the potentials of such people and build their capacity which may help them connect to the mainstream in the society.
Objectives
The National Center for Disability Studies has been set up with the following broad objectives:
To design, develop and implement the training programmes for all the 16 categories of professionals/personnel recognized by the Rehabilitation Council of India. To promote and facilitate research on various disability-related issues; To undertake assignments for documentation and dissemination of information related to rehabilitation of children/people with disabilities. To Identify and develop appropriate information and communication technologies and software for education and training in the area of disability and set up a resource centre at IGNOU. To develop a database of learners with disabilities enrolled in various programmes of IGNOU. To organise national/international seminar/workshop/symposia/lecture on various issues related to disability. To adopt innovative approaches and policies for education, training and rehabilitation of children with disabilities. To institute award/merit scholarship for outstanding disabled students. To develop a network of training, employment, information and guidance centers and share expertise and extend support to other such programmes throughout the country as an apex national resource center.
Source: www.ignou.ac.in
CBSE Relaxation for Children with Disabilities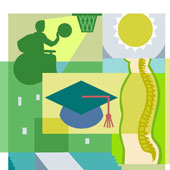 The Central Board of Secondary Education has provided relaxation for children with various disabilities like Visually Impaired, Physically Challenged, Autistic, Dyslexic, Spastic and other categories defined in the PWD Act, 1995 with regard to both Secondary School Examination and Senior School Certificate Examination. These relaxations are as follows :
Exemption from studying third language up to middle school level (i.e. Class VIII).
Permission to use an amanuensis.
The amanuensis should be a student of class lower than the one for which the candidate will be taking the examination.
The Center Superintendent of the Examination Center chooses a suitable amanuensis and forwards his/her particulars to the Regional Officer concerned for consideration and approval.
The services of amanuensis shall be provided free of cost.
The amanuensis is paid remuneration as prescribed from time to time by the Board.
The candidate may be permitted to use the services of an amanuensis in all or any of the papers. Services of same amanuensis is taken for all the papers.
The candidates are permitted to draw the diagrams etc. themselves, if desired by them. Services of same amanuensis is taken for all the papers.
Additional time as under is given in each paper;

For paper of 3 hours duration 60 minutes
For paper of 2 ½ hours duration 50 minutes
For paper of 2 hours duration 40 minutes
For paper of 1 ½ hours duration 30 minutes

The Center Superintendent makes the sitting arrangements for the dyslexic, visually impaired, physically challenged and spastic candidates on the ground floor, as far as possible.
Alternative type questions are provided in lieu of questions having visual inputs for the blind candidates in English Communicative and Social Science for Class X and History, Geography and Economics for Class XII.
Separate question papers in enlarged print for Mathematics and Science & Technology in Class X are provided.
The Center Superintendent(s) are directed to send the answer books of special category students in separate covers.
To facilitate easy access, a few selected schools are made examination centers for special students.
Visually impaired candidates have the facility to use computer or a typewriter for writing answers.
Teachers from schools for visually impaired are appointed as Assistant Superintendent(s) (Invigilators) at the special examination centers. However, precaution is taken to appoint different subject teachers on different days.
A separate column is provided on the title page of the answer book for indicating the category of candidates with disabilities so that these answer books could be segregated for sending them separately to the Regional Office of the Board.
A candidate with disability appearing for Class X Summative Assessment Examination has the option to opt for one language instead of two along with any four of the following subjects:
Mathematics, Science, Social Science, Another Language, Music, Painting, Home Science and Introductory Information Technology, Commerce (Elements of Business) & Commerce (Elements of Book Keeping and Accountancy)
The Board has also issued advisory to schools for Inclusive Education of children with disabilities. These guidelines are as follows:
to ensure that no child with special needs is denied admission in Mainstream Education
to monitor the enrollment in schools of disabled children
to provide support through assistive devices and the availability of trained teachers
to modify the existing physical infrastructure and teaching methodologies to meet the needs of all children including Children with Special Needs
to ensure that all schools are made disabled friendly by 2020 and all educational institutions including hostels, libraries, laboratories and buildings will have barrier free access for the disabled
to ensure availability of Study material for the disabled and Talking Text Books, Reading Machines and computers with speech software
to ensure an adequate number of sign language interpreters, transcription services and a loop induction system will be introduced for the hearing handicapped students
to revisit classroom organization required for the education of Children with Special Needs
to ensure regular in-service training of teachers in inclusive education at the elementary and secondary level.
The Board has also directed all its schools to provide proper physical facilities like ramps, toilets for wheel chair users and auditory signals in elevators and lifts in accordance with the provisions laid down in PWD Act, 1995 for differently abled students.
The Board has made provisions for visually impaired students to take up Science subjects, i.e., Physics, Chemistry and Biology, involving practicals, at Senior Secondary level by deciding to provide separate question papers in lieu of practicals to visually impaired students in these subjects. The alternate question papers for practicals will contain multiple choice questions, based on practical content in the subjects of Physics, Chemistry and Biology. This new scheme for providing alternate question papers in Physics, Chemistry and Biology at Senior Secondary level has been implemented for the students of Class XI from the session 2011-12 and for the students of Class XII from the session 2012-13. The guidelines for alternate question papers in practicals for visually impaired students in the subjects of Physics, Chemistry and Biology along with the list of practicals and the Sample Question Paper for Class XII will be provided on CBSE website: www.cbse.nic.in.
It may be reiterated here that this provision of alternate question paper in lieu of practicals at Senior Secondary level for visually impaired students is given only for CBSE Board Examination. Students should also carefully refer to the requirements of the admitting Organization/College/University for further upward mobility in their academic career related to these subjects.
Integrated Education Scheme For The Students With Disabilities
विकलांग बच्‍चों हेतुसमेकित शिक्षा (आईईडीसी) स्‍कीम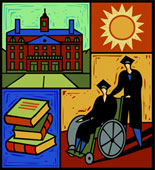 While the disabled children may attend the regular schools there are also special schools for the disabled children. Most of these special schools are located in Urban areas. Voluntary Organizations are taking major initiative in opening special schools in the country. The Ministry of Welfare provides financial assistance to these organizations to establish special schools. A few special schools offer vocational training in trades like tailoring, carpentry, book binding etc. There are four national institutes in the area of visual, hearing, mental and locomotor disability which organize regular programmes for the training of teachers for the training of teachers for the handicapped. The Scheme has been transferred to the Department of Education since 1982.
Under the Integrated Education Scheme for Disabled operated by the Department of Education, handicapped children are sought to be integrated in the normal school system. Hundred per cent assistance is provided to states and UTs for education of the children suffering from certain mild handicap in common schools with the help of necessary aids, incentives and specially trained teachers.
The following types of disabled children are covered under this Scheme:
Children with loco-motor disabilities
Mildly and moderately hearing impaired.
Partially sighted Children.
With Intellectual Disability – educable group(with IQ 50–70).
Children with multiple disabilities (Blind and Orthopedic) hearing impaired and orthopedic disability, educable and intellectually disability,visual impaired and mild hearing impaired.
Children with learning disabilities.

The Scheme provides the following facilities:-
The children with disabilities are provided certain allowances as indicated below:-

Books and stationery allowances of Rs. 400 per annum.
Actual expenses on uniform up to Rs. 200 per annum.
Transport allowances of Rs. 50 per month.
Reader allowance of Rs. 50 per month in case of blind children after Class V.
Escort allowance for severely handicapped children with lower extremely disabilities @ 75 per month.
Actual cost of equipment subject to a maximum of Rs. 2000 per student for a period of five years.

For severely disabled children one attendant is allowed for 10 children. The attendant is given the standard scale of pay prescribed for Group 'D' employees in the States/U.T. concerned.
Disabled Children residing in school hostel within the same institution where they are studying may also be paid boarding and lodging charges as admissible under the State Govt Rules/Schemes. where there is no state of Scheme of Scholarship to hostlers the disabled children, income of whose parents does not exceed Rs. 5000 per month may be paid actual boarding and lodging charges subject to a maximum of Rs. 200 p.m.
Severely disabled children residing in school hostels may need the assistance of a helper or ayah. A special pay of Rs. 50 p.m. is admissible to any employee of the hostel willing to extend such help to Children in addition to his/ her duties.
In a school in rural areas where at least 10 handicapped children are enrolled, capital cost for purchase of school rickshaw for free use of these children and expenses for Rickshaw Puller @ Rs. 300 p.m. will be provided under the scheme. In such cases, no transport allowances will be payable to the Students.
Fellowships
Junior and post-Doctoral fellowships are awarded by the U. G. C. A Post-Doctoral fellowships is of Rs. 2100 per month While Junior Fellowship is Rs. 1800 per month. The duration of a Post-Doctoral (Fellowship (P.D.F.) is two years and that of a Junior Fellowship (J.R.F.) is four years. In the third years of the ( J.R.F.) the scholar is entitled to Rs. 2100 per month on the basis of his work done in the first two years. In addition to the monthly payment an annual contingent grant of Rs.4000 or Rs. 300 is paid to Post- Doctoral or Junior Fellow respectively .
In the case of scholars with blindness, U.G.C. provides a special grant to cover the appointment of a reader. The University Grant Commission has reserved 1% of the fellowships allocated to the universities or at least one award per year to the PwDs.
Courses for Parents
Parents are child's first and natural teachers and all children almost always learn language from their parents. Correspondence courses are therefore designed for parents to assist them in handling the difficulties that they may encounter in developing communication and language skills in their children. Parents are provided with a Home Study Plan for input in language development, so that they could provide a language stimulating environment at home during their child's early life i.e. 0–5 years, as it is critical period for language acquisition.
At present such correspondence courses are available at many organizations in various languages. A few addresses are given here:
Kanmantra, M.D.D. AYJNIHH, K.C. Marg, Bandra Reclamation, Bandra (W), Mumbai – 400050 (For Marathi)
Central Institute for the Teachers of Deaf Municipal School Building, 3rd Floor, Opposite YMCA Swimming Pool, Farook Umarbhoy Path, Agripada, Mumbai – 400011 (For Marathi)
John Tracy Clinic 806, West Adams Boulevard, Las Angeles, California – 90007 (For English)
Shravan Vani Sudhar Kendra All India Institute of Medical Sciences, Ansari Nagar, New Delhi – 1
Most of such correspondence courses are free of charge for the parents.
Contact Training Programmes for Parents:
Upholding the parent teacher partnership in education of the hearing impaired contact training programmes for parent of hearing impaired are organized periodically in most of the special schools in India. Depending upon the age group of the children the programmes are chalked out so that appropriate training could be imparted to the parents to carry out follow up and supplement the class–room teaching.
Such programmes are routinely conducted by:
A.Y.J.N.I.H.H. K.C.Marg, Bandra Reclamation, Mumbai – 400050
K.D.N. Shruti School for the Deaf Juhukar Marg, Behind Chandan Cinema, J.V.P.D.Scheme, Mumbai - 49
Central Institute for the Teachers of Deaf Municipal School Building, 3rd Floor, Opp. YMCA Swimming Pool, Farook Umarbhoy Path, Agripada, Mumbai – 400011
Balvidyalay School for Young Deaf Children 14, 1st Cross Street, Shastri Nagar, Chennai – 600020 Tamil Nadu
Little Flower Convent Higher Secondary School for Deaf 127, G.N. Road, Cathedral P.O., Chennai – 600006 Tamil Nadu
Awareness-cum-Training Program For Parents
As a smallest segment of the society, the parent and the family members have a crucial role to play. To fulfill this, parents and family members need to be equipped with information regarding the nature, early identification and prevention of disabilities strategies and methods of stimulating social language, mental, physical and motor development, teaching principles and methodologies aids and appliances and the variety of educational and economic options available so that persons with disabilities can be an integral part of community life. Keeping in view, "Awareness-cum-Training Package for Parents" through distance mode is a nation wide programme, is being launched very shortly on a massive scale by RCI in collaboration with IGNOU. The objective of the programme is as follows:
To develop an understanding about disability and an attitude of sensitivity and empathy towards the disabled.
To be able to identify children with mental, visual, locomotor, hearing and speech disability and those with cerebral palsy.
To know how to prevent disabilities.
To bring about an attitudinal change regarding the disabled that despite the disability, the disabled person is like other non-disabled people in most areas.
To instill the conviction that the disabled child/person can learn and benefit from instruction and training.
To provide orientation to the basics of assessment with respect to various disability areas.
To suggest strategies and methods for early stimulation, training and education of the disabled child/person at home/ community so as to foster development in all areas -physical, motor, cognitive, social and language.
To help the child develop basic self-help skills with respect to activities of daily living and mobility.
To suggest strategies for managing difficult behaviors in children.
To help the parents identify the best possible and feasible educational setting for the child and to help them prepare the child for the same.
To suggest methods of integrating the child in the pre-school and primary school through individualized educational programme, adaptation of teaching learning material.
To suggest leisure time and co-curricular activities.
To suggest strategies for developing pre-vocational skills in the child and identify suitable avenues for economic rehabilitation.
To address concerns related to issues of sexuality.
Source:Rehabilitation Council of India
Education Loans to PwDs
The National Handicapped Finance and Development Corporation(NHFDC) is now providing education loans to handicapped students at concessional rates for pursuing higher studies in both India and abroad, provided that they fulfill the eligibility criteria. The maximum loan amount provided for education in India is Rs.7.50 lakhs and for abroad, Rs.15 lakhs. The interest rates for loans upto Rs. 50,000 is 5%, from Rs. 50,000 to Rs. 5 lakh is 6% and above Rs. 5 lakh is 8%. A rebate of 1% is also being given to women beneficiaries. NHFDC functions as an apex corporation and channelizes its funds through State Channelizing Agencies (SCAs) for the welfare ofPersons with Disabilities (PWDs). The proposal for education loans above Rs.1.50 lakhs received from SCAs are sanctioned at NHFDC level and the proposals upto Rs.1.50 lakhs are sanctioned by the SCA under delegated authority.